2021 DaVinci Institute Winners
Northeastern State University Celebrates 2021 DaVinci Institute Winners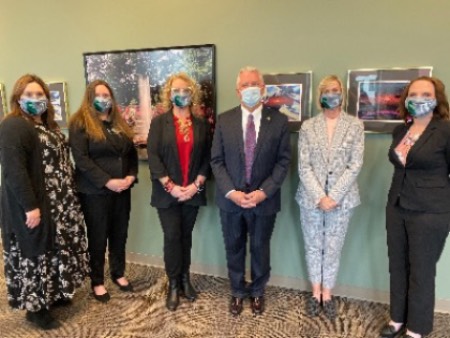 From Left: Dr. Sarah Ramsey, Dr. Meagan Moreland, Dr. Jericho Hobson, NSU President Steve Turner, Anne Heine & Amber Quammen.
(Tahlequah, Oklahoma) – Northeastern State University is celebrating five 2021 DaVinci Institute award winners this year.
The DaVinci Institute selected NSU faculty members Dr. Sarah Ramsey, associate professor of curriculum and instruction, Dr. Jericho Hobson, assistant professor of education, and Dr. Meagan Moreland, associate professor of reading, as DaVinci Fellows for 2021.
The DaVinci Institute Fellowship funds creative projects among Oklahoma's higher education faculty. Winners are awarded on the premise that creative thought and insight are fundamental components across academic disciplines. Fellows receive a $1,000 grant to promote scholarships in any area of creativity in education.
Ramsey has been named DaVinci Institute Creativity in Education Fellow for 2021. Ramsey said she is passionate about working with preservice and current educators on creative and innovative ways to engage children in thinking and learning.
Most recently, her work has been consulting with the New York Public Library to provide professional development on the topic of nonfiction read-aloud for their children's librarians and early literacy program staff.
"It's an honor to be named the 2021 DaVinci Creativity in Education Fellow and to share this distinction with so many peers whose work I admire," Ramsey said. "I am grateful to the DaVinci Institute and NSU for their support in furthering the work of nurturing creative nonfiction read aloud. This fellowship award will enable me to equip educators and parents to open up the magic and mystery of the world of nonfiction and impact the newest generation of historians, mathematicians, scientists and writers."
Hobson is an expert in teacher preparation, urban education, trauma-informed and responsive teaching practices and STEM integration in classroom activities.
"Receiving this award is an honor and accomplishment I didn't anticipate, though I hoped for," Hobson said. "I am humbled and excited to be able to represent NSU and join other amazing educators that have previously received this award or nomination."
Moreland's area of expertise is reading. Her primary area of focus consists of teaching in the graduate program for students getting their masters in reading to become reading specialists. Additionally, Moreland is passionate about clinical work, she enjoys practicum and clinical settings for her students to practice with school-aged students.
"Winning the DaVinci award is an esteemed honor," Moreland said. "This award recognizes my passions for helping educator attrition rates and encouraging people to join in the ranks as Oklahoma educators."
The DaVinci Institute also selected NSU seniors Anne Heine, who is from Bixby and pursuing a special education degree, and Amber Quammen, who is from Twin Hills and pursuing an elementary education degree, as DaVinci Institute Scholars for 2021.
The DaVinci Institute Scholar Award is awarded to pre-service teachers for their academic success and community service. Winners are provided a $1,000 grant to support their creativity and critical thinking they will bring to their students. Each scholar will graduate from a college or university in Oklahoma and have chosen to remain in state to build a teaching career.
"Anne and Amber are so deserving of this DaVinci Scholar recognition," Dr. Martha Parrott, assistant dean, professor of mathematics, director of NSU mathematics clinic and DaVinci Fellow, said. "They're each a model of creativity, innovation and use those talents to think intentionally about how to provide purposeful service learning opportunities to grow and apply content knowledge with the students they will eventually teach."
Heine, Quammen, Ramsey, Hobson and Moreland were celebrated along with others during a virtual awards ceremony hosted by the DaVinci Institute in March. Due to the pandemic canceling last year's celebration, 2020 DaVinci Institute award winners were also recognized at this year's ceremony. The institute selected NSU faculty members Dr. Sapna Das Bradoo, associate professor of biology and Dr. Richard Hasenauer, assistant professor of mathematics, as DaVinci Fellows for 2020.
Dr. Spence Pilcher, professor of chemistry, was named DaVinci Creativity in Education Fellow and NSU student Jessica Abuelaileh, an elementary education major from Owasso, was named a 2020 DaVinci Scholar.
About the DaVinci Institute
The DaVinci Institute is organized exclusively for charitable, scientific, and educational purposes, more specifically to serve as an Oklahoma think tank whose mission is to promote a statewide creative renaissance through lectures, workshops, professional development, research, and advocacy.