2022 President's Leadership Class
NSU celebrates 2022 President's Leadership Class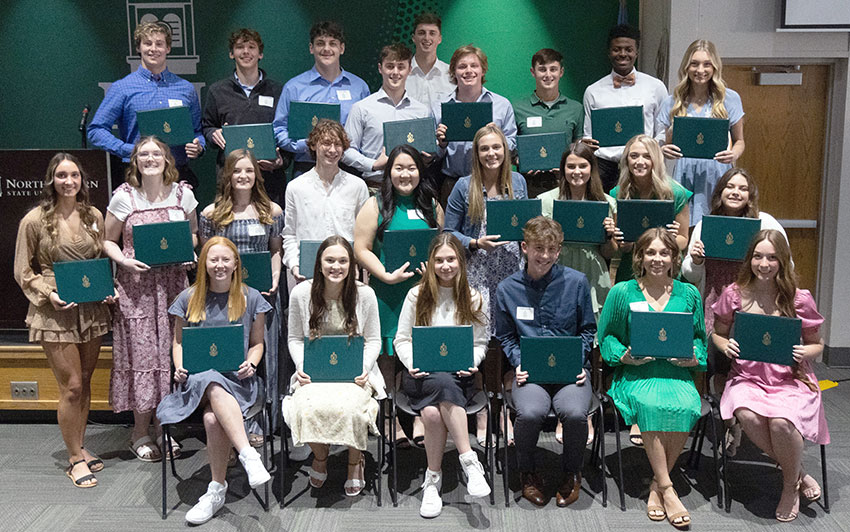 NSU President Steve Turner and wife Penny welcomed the 2022 President's Leadership Class in April. Pictured in the first row from left to right are: Sydney Vann (Owasso HS), Vanessa Williams (Westville HS), Jordan Johnson (Hilldale HS), Easton Voyles (Wagoner HS), Addilyn Lingle (Tuttle HS) and Chandon (Breece) Berryhill (Broken Bow HS). Second row from left to right: Ellee Davenport (Tahlequah HS), Kaylee Dubin (Hilldale HS), Sidney Robinson (Cookson Hills HS), Aidan Falkner (Poteau HS), Serena Vang (Sallisaw HS), Sydney Taylor (Fort Gibson HS), McKinley Thompson (Tahlequah HS), Aubreigh Lambert (Vinita HS), and Macy Page (St. Augustine Academy). Third row from left to right: Dean Odom (Poteau HS), Timothy Skerbitz (St. Augustine Academy), Jaxon Collins (Muldrow HS), Bryson Crawley (Noble HS), Trenton Miller (Tahlequah HS), Cannon Brown (Rejoice HS), Barhett Crawley (Noble HS), Juwan Dancy (Midwest City HS) and Dorothy Swearingen (Tahlequah HS) Not pictured: Grace Manuel (Byng HS)
TAHLEQUAH — Twenty-five Oklahoma high school seniors were selected to be the next President's Leadership Class at Northeastern State University.
The high school seniors were chosen after a rigorous review of their leadership and service activities, awards, academic transcript and college entrance exam scores, letters of recommendation and an in-person interview by PLC alumni and staff.
NSU President Steve Turner and wife Penny welcomed the incoming President's Leadership Class at a dinner in April.
Each PLC recipient will receive a four-year scholarship valued at $11,200, which includes a tuition waiver for up to 18 undergraduate hours, $1,200 towards an on-campus housing option, and an $800 stipend from the NSU Foundation each semester. If they graduate early, these benefits may be applied toward a graduate degree at NSU for the remainder of those four years.
PLC graduating seniors also receive an all-expense-paid trip led by Turner that focuses on our nation's leadership and history. Destinations have included Washington, D.C., Philadelphia or Boston.
Incoming PLC members will attend a summer retreat with current PLC members and must participate and become leaders in campus organizations and/or extracurricular activities, as well as maintain a 3.25 grade point average while at NSU.
Prior PLC alumni have become leaders in state government, optometry and other health care fields, education, and business administration, as well as local and community decision makers.
Incoming NSU PLC members include:
Broken Bow High School
Chandon (Breece) Berryhill

Byng High School
Grace Manuel

Cookson Hills Christian School
Sidney Robinson

Fort Gibson High School
Sydney Taylor

Hilldale High School
Kaylee Dubin
Jordan Johnson

Midwest City High School
Juwan Dancy

Muldrow High School
Jaxon Collins

Noble High School
Barhett Crawley
Bryson Crawley

Owasso High School
Sydney Vann

Poteau High School
Aidan Falkner
Dean Odom

Rejoice High School
Cannon Brown

Sallisaw High School
Serena Vang

St. Augustine Academy
Macy Page
Timothy Skerbitz

Tahlequah High School
Ellee Davenport
Trenton Miller
Dorothy Swearingen
McKinley Thompson

Tuttle High School
Addilyn Lingle

Vinita High School
Aubreigh Lambert

Wagoner High School
Easton Voyles

Westville High School
Vanessa Williams

Online applications for the NSU PLC Scholarship open in September and close on Feb. 1. For more information, go to
scholarships.nsuok.edu/Freshmen/default.aspx.