NSU River City Players to host auditions
TAHLEQUAH, Okla. — Performers are invited to audition next month to join the River City Players this summer for the 2023 season.
The River City Players will host auditions on Feb. 4 at the NSU Playhouse in Tahlequah and Feb. 5 in Edmond at the School of Music on the University of Central Oklahoma campus. Both auditions start at 1 p.m.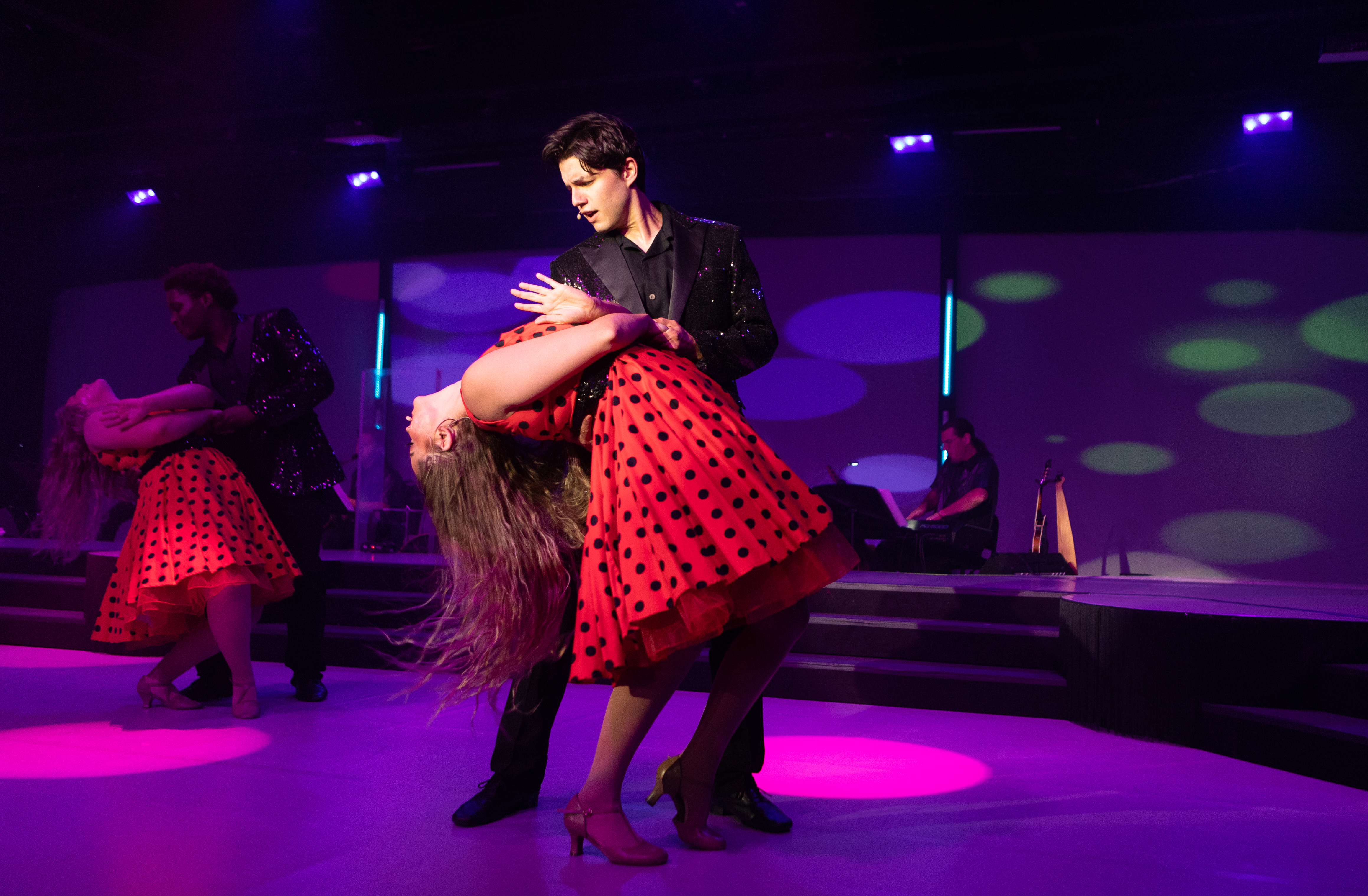 Performers Auburn Kirkhart and Hagen Wano (center) and Lamar Burns and Carly Johnson (left) perform in the NSU Playhouse as part of the 2022 season of River City Players.
Assistant Dean of the College of Liberal Arts at NSU and theater professor Dr. Robyn Pursley said anyone is welcome to audition, however, high school students, college students and recent graduates are given priority when casting.
"One of the educational purposes of the program is to provide students with a professional grade summer theatre experience," Pursley said. "It is definitely a very unique thing to be a part of and for most people who end up working with the shows in any capacity, it is an experience that you will carry with you for the rest of your life. The connections made through what we do is simply remarkable and I truly adore being a part of this legacy."
Performers must be strong singers with the ability to hold parts in a group vocal piece as well as dance. Auditionees should prepare two songs, one country and one rock and roll, and bring a music track with them to play on their phone or digital device. In addition, auditionees will participate in a group dance audition following the vocal auditions.
The River City Players is a musical revue series produced by the Northeastern State University's College of Liberal Arts and performances take place during the summer months in the NSU Playhouse. This summer, River City Players will be celebrating its 40th season. Attendees to River City Players' performances are treated to rock 'n' roll and country performances that cover selections from popular musical artists in those genres.
"To build the shows for this season we have surveyed a sampling of people who have been involved in River City over the past 40 years and their input has directly affected what songs we put on stage this year, so that is definitely a unique aspect of this season," Pursley said. "I think our patrons will enjoy seeing some things on stage that they might remember seeing before, but also some numbers that have never been done on the River City stage, but are truly representative of the styles and traditions associated with River City."
Tickets for the 2023 season will open to the general public on Feb. 1. The 2023 season will run from June 29 through Aug. 5.
Those interested in auditioning for River City Players can fill out the following form: https://forms.gle/jPRgcKFdNfYGsxkr5. It is also possible to register at the auditions.
Patrons can purchase tickets for the 2023 River City Players season once they become available at goriverhawkstickets.com.