American Indian Science and Engineering Society
NSU students recognized at American Indian Science and Engineering Society conference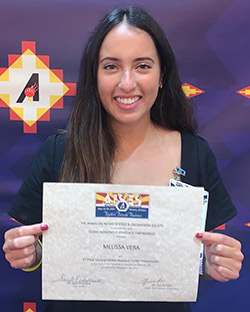 Melissa Vera

TAHLEQUAH — Northeastern State University students Melissa Vera and Madison Whitekiller were named winners at the American Indian Science and Engineering Society conference competition this semester.

Vera placed third in the poster competition and Whitekiller placed first in the oral presentation competition.

Vera's poster was titled "Oxidant Stress in Diabetic Retinopathy."

Whitekiller's oral presentation was titled "Automated Image Analysis Identifies Pericyte and Endothelial Cells in Capillaries of Diabetic Mouse Models."

Dr. Cammi Valdez, assistant professor of chemistry at NSU, accompanied the students to the conference. She is proud to have Vera and Whitekiller representing NSU as national AISES conference winners. She said as women of color in STEM they have overcome many obstacles, so to be recognized nationally is a huge accomplishment.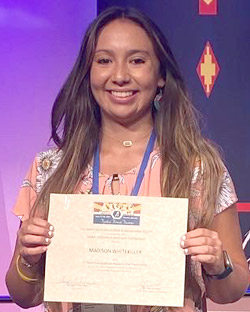 Madison Whitekiller
"I think it is very important for students at NSU to get to experience a national conference and all it has to offer," Valdez said. "During the 2021 AISES National Conference, students had the opportunity to meet other scientists of color, engage in scientific discourse at a national level and interact with the graduate schools and industry representatives."
The AISES is a national, nonprofit organization which nurtures community by bridging science and technology with traditional Native values. NSU's chapter of AISES welcomes students to become more involved with STEM subjects by completing research and other projects on campus.
To learn more about NSU's chapter of AISES, visit https://offices.nsuok.edu/centerfortribalstudies/StudentOrganizations/AISES.aspx.