Health Care Programs
NSU health care programs nationally ranked for quality, affordability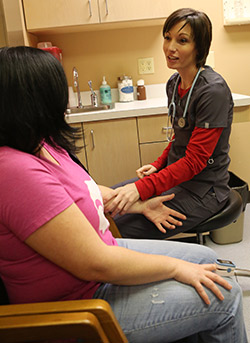 Northeastern State University' online registered nurse (RN) to Bachelor of Science in Nursing (BSN) and Master of Public Health programs contributed Northeastern being named one of 2021's best schools for online health care education programs by EduMed.org.
TAHLEQUAH — Northeastern State University has been named one of 2021's best schools for online health care education programs by
EduMed.org
.
NSU's online registered nurse (RN) to Bachelor of Science in Nursing (BSN) program is ranked No. 7 on the website's 2021's Best Online RN to BSN Programs list. The program is also listed at No. 11 on its Top 50 Most Affordable Online RN to BSN Programs in 2021.
NSU's Master's in Public Health program has also been named one of the most affordable in the nation. The program is listed at No. 8 on EduMed.org's Top 50 Most Affordable Online MPH Programs in 2021 list.
"The faculty in these programs are very dedicated to the student needs, which are primarily working adults, trying to complete their degrees," Dean of the Gregg Wadley College of Science & Health Professions Dr. Pamela Hathorn said.
NSU Nursing Program Director April Trenary said the university was a pioneer in creating its RN to BSN program several decades ago. NSU's RN to BSN program started in 1982 and was the first of its kind in the state. The online program can be completed in as few as 10 months. Major areas of emphasis include family nursing, community health, leadership and research.
Trenary said over the past decade 678 students completed the baccalaureate degree in nursing at NSU.
"Nursing requires great responsibility and judgment not limited to performing technical skills," Trenary said. "Studies of nursing practice have demonstrated better patient outcomes in hospitals with a greater number of BSN-prepared nurses."
Trenary said NSU is also working to strengthen the state's nursing workforce by addressing the shortage of master's prepared nurse faculty and leaders. She added one reason entry-level nursing programs turn away students is insufficient faculty.
The Master's in Nursing Education program at NSU prepares enrollees for the scholarship of teaching and learning. Trenary said the addition of the Associate Degree in Nursing (ADN) to Master of Science in Nursing (MSN) pathway also offers a real incentive for practicing nurses with non-nursing bachelor's degrees to return to school and further their education which can lead to better jobs and salaries.
"While we are not adding to the number of RNs in the workforce, we are contributing to more RNs that have a BSN as opposed to an associate level RN," Hathorn said. "In the Gregg Wadley College of Science and Health Professions we have woven throughout all our health professions curriculum, cultural sensitivity related to the Native Americans in our service area."
NSU began offering a Master's in Public Health in 2020. In 18 short months, students can complete the program. NSU offers three concentrations for the certificate program: Public Health, Global Health, and Public Health Leadership.
NSU Provost and Vice President of Academic Affairs Dr. Debbie Landry said while the didactic portion of the MPH program is 100% online, but students complete a 200-hour practicum in which they gain hands-on experience working directly with community partners.
There is also a certificate of public health available for NSU students. Landry said the certificate is an option for those students who want to be knowledgeable in the field of public health but are unable to pursue a master's degree.
"Having a certificate in public health prepares individuals for positions in clinics, hospitals, government agencies and non-profit organizations that require advanced knowledge and practical skills beyond that of a bachelor's degree," Landry said.
For more information about health profession offerings such as the RN to BSN program at NSU visit the Gregg Wadley College of Science & Health departments page at https://academics.nsuok.edu/sciencehealth/Departments.