hospitality and tourism
NSU ranked among nation's best and most affordable hospitality and tourism management programs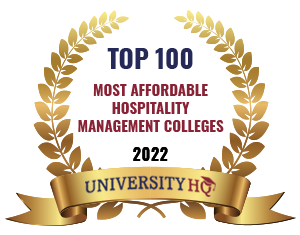 TAHLEQUAH, Okla. — The Hospitality and Tourism Management program at Northeastern State University prepares students for careers in the hospitality and tourism fields.
It was recently recognized as one of the top programs in the nation for its quality and affordability.
University HQ ranked NSU at No. 8 on its list of the Top 100 Best Affordable Hospitality Management Programs.
"When you work hard to create a quality program, it's an honor to have it recognized," Dr. Joan Williams said. "We work hard to remain relevant in today's changing environment. We have the support of an energized advisory board that helps bring current best practices to the classroom."
Williams said hospitality is the number one employer in the world but most people have no idea how broad and expansive the field can be. She added many students that complete the program go on to work in event planning, hotel and casino management industries. Some students also work in travel planning offices of large corporations.
Completion of the program at NSU results in students receiving a Bachelor of Business Administration with a major in Hospitality and Tourism. Williams said students will leave with a strong business base but also be knowledgeable in the hospitality and tourism fields. She added students will learn about tourism promotion and development, meeting planning and event management, the differences that services marketing brings to the field and some basics of the gaming industry.
"It's an exciting field to enter," Williams said. "I think anyone with a love for this industry can gain from the formal training involved with a university degree."
She added students at community colleges like Tulsa Community College, Carl Albert State College and Conner's State College interested in furthering their education in the field can consider enrolling at NSU. The institution has a number of existing partnerships with area community colleges that makes transferring to complete a bachelor's a smooth and easy transition.
Completing a bachelor's degree is not the only offering in this field at NSU. The university also offers a certificate for event management.
Students who enroll in the 15-hour certificate program will learn the basics of meeting management, service industry management, tourism marketing and convention and trade show management. NSU began offering the certificate beginning in the fall 2021 semester as part of efforts to constantly seek new opportunities to better serve the community.
"This is a great way for the university to help provide professional development to workers without them needing to return to college full time," Williams said.
To learn more about the hospitality and tourism management program at NSU contact Williams at willijoa@nsuok.edu or at 918-444-2881. More information is also available online at https://cbt.nsuok.edu/HTM.aspx.