NASPA Pillar of the Profession Award
NSU's Freeman receives NASPA Pillar of the Profession Award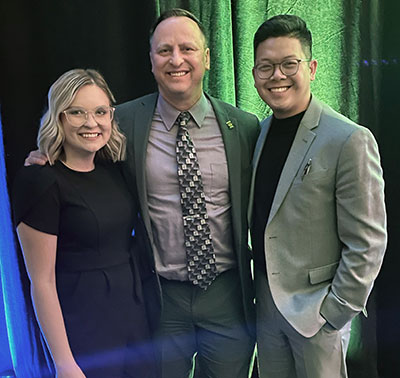 Dr. Jerrid Freeman reconnects with NSU alumni at the 2022 NASPA Annual Conference. Pictured from the left are: Dae'lyn Do, Freeman and Hoang Do.

TAHLEQUAH — Northeastern State University Vice President of Student Affairs and Enrollment Management Dr. Jerrid Freeman has been recognized as a 2022 NASPA Pillar of the Profession.

Each year at their annual conference, the National Association of Student Personnel Administrators (NASPA) honors individuals who have served as leaders, teachers and scholars in student affairs and higher education.

"I am definitely honored to be recognized by my peers and colleagues and proud of my work with NASPA, at NSU and at other institutions that put me into this position," Freeman said. "It wouldn't have been possible though without a lot of support from family, friends and colleagues. Even now I am still speechless about it all."

In his role, Freeman works directly with students and with many of the projects and initiatives that impact their time at NSU.

He enjoys interacting with students in both formal and informal settings on campus to better understand their experiences and locate opportunities for improvement.

Some of the initiatives he is proud to have been involved with at NSU are enhanced Diversity, Equity and Inclusion efforts, renovations in the University Center and Housing facilities, improved reporting processes and increased recruitment and retention efforts.

Freeman is looking forward to several projects in 2022 including updates to Leoser Hall, increased club sport opportunities and several new service and retention initiatives aimed to benefit students.

"There have been some major changes, initiatives and renovations in my 11 years at NSU," Freeman said. "I am proud of where NSU has come and become. While I am happy with all the movement, I am not content and am excited to see the further improvements we make in the student experience and in their education."

To learn more about the NASPA awards, visit https://naspa.org/about/naspa-foundation/foundation-pillars-of-the-profession. To learn more about NSU Student Affairs, visit https://offices.nsuok.edu/studentaffairs/default.aspx.