NSU University Relations team garners Oklahoma College Public Relations Association awards
TAHLEQUAH, Okla. — Northeastern State University's University Relations team which includes the Communications & Marketing department secured three awards and one honorable mention during the 2023 Oklahoma College of Public Relations Association (OCPRA) awards ceremony this summer at the Downstream Resort in Quapaw.
OCPRA'S annual conference provides professional development opportunities and recognizes teams from higher education institutions across the state for their creativity, innovation and excellence in marketing and public relations.
"We are immensely proud of our team for their achievements in creating and telling the story of NSU," Vice President of University Relations, Dan Mabery said. "These awards are just a small testament to the hard work and dedication our team brings to the table."
NSU's recognized entries include:
Achievement Award
Square Peg (a project that doesn't quite fit into other categories) - Seminary Hall window clings
Ryan Churchill
Excellence Award
Campaign – Recruitment, E-Kindness Wall Advertising Campaign
Meg Watkins, Jennifer Zehnder and Dan Mabery
Excellence Award
Special Publications - NSU Foundation Annual Report 2022
Meg Watkins, Abby Kelley, Rachel Mamone and Ernest Rollins
Honorable Mention
Cover Design, Full Scope magazine
Abby Kelley and Jeff Snodgrass (freelancer)
"Our team's creative vision, tireless efforts and strategic approach to their work not only elevates NSU's reputation, but also enhances our ability to connect with our diverse audiences," Mabery said. "I am excited that our team will work with even more campus community members in the coming year to share the NSU story."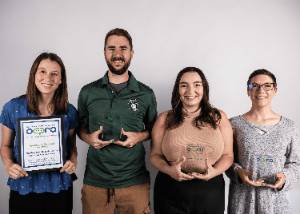 NSU University Relations team members display 2023 OCPRA awards. Pictured left to right are: Abby Kelley, Ryan Churchill, Rachel Mamone and Meg Watkins.