College of Optometry residency programs
Northeastern State University Oklahoma College of Optometry residency programs are among the best in the nation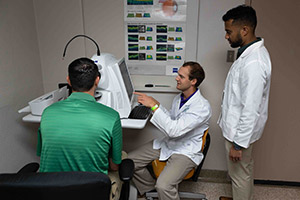 Dr. Bibin Cherian (right), an optometry resident, working with third year optometry student Aaron Meyer (left) at the NSUOCO clinic on the Tahlequah campus in June. Meyer is pointing to an optical coherence tomography (OCT) image which gives information and pictures of both the front and back of the eye.
Graduates of optometric programs chose to complete their residency at Northeastern State University Oklahoma College of Optometry due to its unique position of being in a state that offers a wider scope of practice in the field.
"The unique aspect of NSUOCO residency programs is that we can train our residents to the full scope of the law which is vast in the state of Oklahoma and includes laser and minor surgical procedures," Associate Professor and Director of Residencies at NSUOCO Dr. Carolyn Majcher said. "This academic year (2020-2021) we have been fortunate to fill all of our 22 resident positions which includes eight NSUOCO alumni and fourteen individuals who graduated from other schools of optometry."
The Oklahoma College of Optometry is one of 23 optometry schools in the nation and the only one in the state of Oklahoma. At the end of June, Oklahoma College of Optometry officials celebrated the most recent cohort of residents completing their residency. Among those completing their optometric residency was Dr. Bibin Cherian, a 2020 graduate of the Northeastern State University Oklahoma College of Optometry who completed his NSUOCO residency at Better Vision Ahead Advanced Eyecare in Edmond, Oklahoma and nJoy Vision in Oklahoma City. While there, he received experience in treating ocular disease and managing patients with cataracts, corneal ulcers, glaucoma, diabetes and dry eye disease.
Cherian was born in India and moved to Oklahoma at the age of two. He graduated from Mustang High School in 2012 and earned his Bachelor of Science in biology at the University of Central Oklahoma in 2016. Cherian was recently engaged and hopes to practice in Edmond, Oklahoma after getting married and completing his residency.
Even though his residency was primarily focused on disease of the front structures of the eye including the cornea, Cherian said his areas of interest are primarily with ocular disease of both the front and back structures of the eye including the retina.
"I hope to be on the forefront of new technology and skills that become available to doctors of optometry during my career," Cherian said.
Cherian said his time at NSUOCO was crucial in developing his passion for optometry. His initial interest in optometry was when he shadowed a doctor during his junior year of undergraduate studies. Due to the small class sizes and helpful faculty, he said he truly felt Tahlequah was a great home away from home.
"The saying 'the people make the place' held true for my time in optometry school, and my only regret was the pandemic cancelling our last semester events like Eyeball and graduation," Cherian said. "I'm eternally grateful for the support system from classmates, professors and the administration, which was the foundation for being able to serve in various roles throughout school."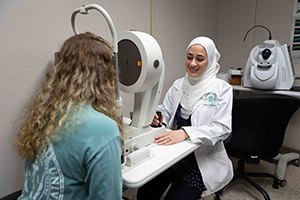 Dr. Heba Hammami, an optometry resident, uses the Oculus Pentacam device to scan a patient's cornea which is often done for contact lens fits, and prior to refractive surgery such as Lasik or PRK at the NSUOCO clinic on the Tahlequah campus in June.
An optometric residency is typically a one-year post-doctoral educational program that expands upon a graduate's clinical skills and knowledge. The majority of the resident's training is clinical and involves the resident seeing complex patient cases, performing and observing surgeries, fitting specialty contact lenses and performing other advanced procedures depending upon the area of specialty.
All accredited residency programs are affiliated with a school or college of optometry which supplements the clinical training, which includes hands-on experience in ocular disease management, laser and optometric surgical procedures, contact lenses, low vision, and other advanced clinical procedures, with various didactic activities such as writing publications, lecturing and journal club.
Residency programs take place at a variety of settings including schools of optometry, multispecialty group practices, private practices, military bases, Veterans Affairs clinics and referral/surgery centers.
NSUOCO has a total of 22 residency positions, four in-house programs and 10 external residency programs. The four in-house residency programs that take place at NSUOCO's clinics are Primary Care, Cornea and Contact Lens, Ocular Disease/Low Vision Rehabilitation and Optometric Management Education.
"The Optometric Management Education program, which is sponsored by the U.S. Army, is a two-year program that combines a Primary Care residency and Master of Business Administration," Majcher said. "NSUOCO is affiliated with external residency programs at four Veterans Affairs Clinics that include Muskogee, Oklahoma; Springfield, Missouri; Fayetteville, Arkansas and Amarillo, Texas, as well as Womack Army Medical Center in Fort Bragg, North Carolina."
Additionally, NSUOCO offers five affiliated external residency programs at referral/surgery centers in Tulsa, Durant, Oklahoma City and Sherman, Texas.
"Residency programs shape future leaders in the profession and prepare optometrists for the most challenging and complex job positions," Majcher said. "Optometrists who choose to pursue residencies have made a commitment to be the best doctors that they can be, and desire to place their patients' needs before their own and are dedicated to providing the highest quality of care."
NSU is highlighting different aspects of the Oklahoma College of Optometry program as part of its "Building Excellence: A Vision for the Future" campaign for a new Oklahoma College of Optometry facility. The estimated price tag is around $33 million. To learn more about the campaign visit the NSU Alumni Association's website for updates.