Entries sought for NSU Fall Writing Contest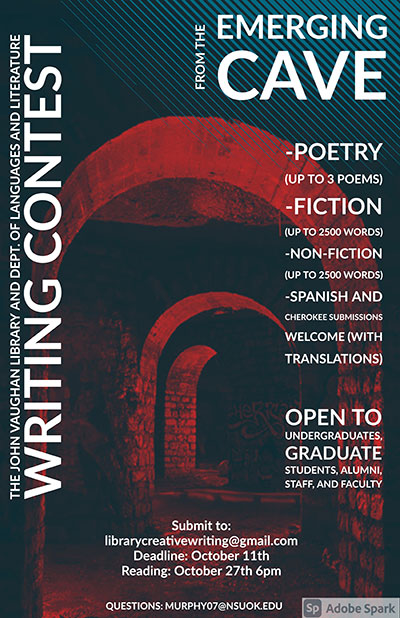 The Northeastern State University Fall Writing Contest for 2021 is open to all undergraduates, graduate students, alumni, staff and faculty. The contest is presented by the John Vaughan Library and the Department of Languages and Literature.
This year's theme is "Emerging from the Cave."
NSU Director of Student Engagement and Transitions Dr. Kendra Haggard said the theme is related to this year's common read "The Master Plan" by Chris Wilson. She said throughout the book Wilson references "The Allegory of the Cave" by Plato. Haggard said the theme is intentionally very broad to encourage participants' creativity in coming up with submissions.
Interested contestants can submit poems, fiction and non-fiction pieces for consideration. Fiction and non-fiction essays can be 2,500 words or less. As for poetry entries, each contestant is allowed up to three poems. Spanish and Cherokee submissions are welcome with translations.
The deadline for submissions is Oct. 11. Submissions can be sent to librarycreativewriting@gmail.com. Submissions will be judged and finalists and honorable mentions will be invited to do a reading of their submissions on Oct. 27 at 6 p.m.
Sophia Beverley Threatt, instructor of library services, said the winning entries for this year will be announced at the reading event and then they will be published in a bound volume. She added the library has published three volumes over the years.
For additional questions please contact murphy07@nsuok.edu.