NSU receives $7,500 through TTCU school pride program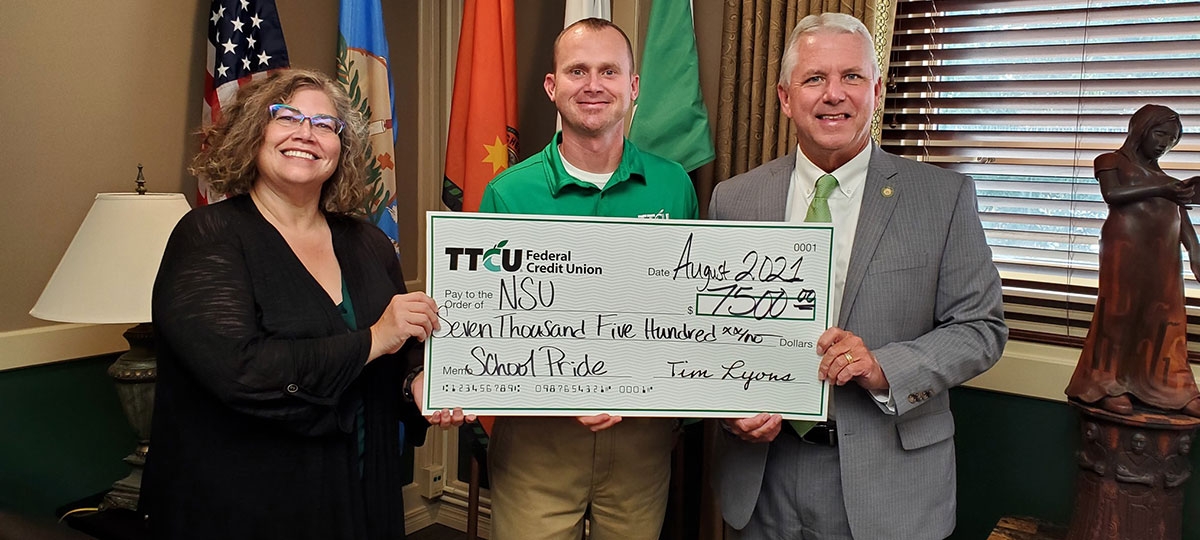 Todd Matthews, TTCU Tahlequah branch manager, (center) presents Peggy Glenn, NSU Foundation executive director (left), and NSU President Steve Turner (right) a $7,500 check through TTCU's School Pride Program.
(Tahlequah, Oklahoma.) – The TTCU Federal Credit Union recently donated $7,500 to Northeastern State University through its TTCU School Pride Program.
The donation is for the 2021 spring semester and is the largest amount donated through the program thus far in school history. Since starting the program, NSU has received $124,500.
The TTCU School Pride Program began in 2007 as a way to give back to local schools. Anyone with a TTCU account can request an NSU branded debit card and every time they use it, a percentage is donated to the school at the beginning of each fall and spring semester.
The program provides schools additional funding for their top priorities. Peggy Glenn, NSU Foundation executive director, said funds continue to be used to assist with professional development through the President's Ambassadors Network program and to support other university priorities.
TTCU has also lent its support to NSU during the COVID-19 pandemic. Glenn said as the pandemic began hitting Oklahoma and classes moved online, TTCU provided $5,000 to NSU's Light the Way Emergency Fund which is designed to assist students with unexpected emergency expenses such as technology needed to complete classes online during the COVID-19 pandemic, basic housing and living expenses, food and replacement of necessary items following fire, theft or natural disaster.
Glenn said TTCU also donated $1,000 in lieu of refreshments to student scholarships last August after NSU officials decided not to have a full in-person opening meeting.
To apply for a TTCU school pride debit card or learn more about the program, visit https://www.ttcu.com/checking-savings/debit-cards#tab2.