Valdez Receives Grant Funding
Northeastern State University's Valdez receives grant funding for vision research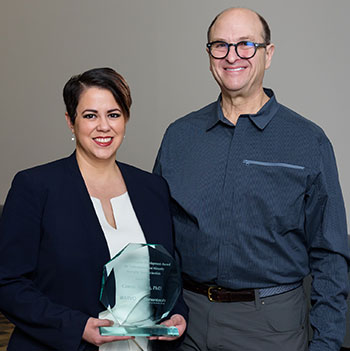 Dr. Cammi Valdez (left) with Dr. Joel Schuman (right), ARVO Foundation Board Chair at the annual ARVO conference in May.
TAHLEQUAH, Okla. — A Northeastern State University researcher and professor has been awarded $350,000 in grant funding to support her diabetic retinopathy research.
Dr. Cammi Valdez, assistant professor of chemistry at Northeastern State University, has been named the 2022 winner of the Genentech Career Development Award for Underrepresented Minority Emerging Vision Scientists by the Association for Research in Vision and Ophthalmology (ARVO).
According to ARVO, the award provides research funding to early-career underrepresented minority investigators who have received their initial faculty appointment and are working to establish an independent vision research program. It is a two-year grant totaling $100,000 to support research and personnel costs.
"Actually, what's special about it is that it's from my professional organization, "Valdez said. "It's both validating as a scientist, but also just humbling."
Valdez was also selected as a recipient for the 2021 Oklahoma IdeA Network of Biomedical Research Excellence (OK-INBRE) grant award.
Only eight researchers from Oklahoma are selected for each award period to work on projects aligning with the OK-INBRE scientific research themes that span the areas of cancer, developmental biology and infectious diseases. This grant totals $250,00 and is awarded over two and a half years.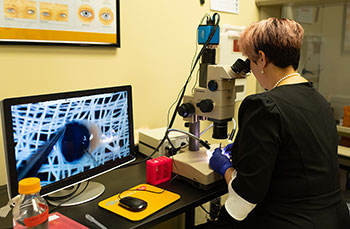 Dr. Cammi Valdez studies a mice eye as part of her diabetic retinopathy research in a lab on NSU's Tahlequah campus.
Valdez's research focuses on vision biology, specifically diabetic retinopathy, which is a diabetes complication that causes damage to the blood vessels in the tissue at the back of the eye. Diabetic retinopathy can cause several symptoms including blurred vision, dark spots, difficulty perceiving colors and blindness. As part of her research, Valdez plans to investigate ways to improve detection of diabetic retinopathy in patients.
Valdez said vision research is a critical field because of how many functions in the body are linked to vision, and that vision problems can point out other conditions like high blood pressure, diabetes, and multiple sclerosis.
Valdez said many people don't think about their vision until serious issues have presented themselves, which can lead to problematic outcomes.
While Valdez's research is focused on vision, the mission behind her research lab on campus at NSU is focused on providing students who otherwise might not have had a path to science, technology, engineering and math (STEM) learning opportunities, a place to gain valuable research skills as early as their undergraduate years.
"My hope is that I'm creating an inclusive space where everyone feels welcome," Valdez said. "As a person of color, as somebody from a background that's underrepresented in STEM, it's important for me that I'm trying to include all voices. Whether that's first-generation students, low income students, rural students, as well as students of color, I try to really celebrate that in my lab."